Have you been considering building a new or redesigned website and considering WordPress? If you are, you might be wondering what the top must know reasons to build your website on WordPress are. 
Having a seamless, intuitive, and functional WordPress website in an increasingly digital world is essential, and even more so if you want your business to reach a national or global audience. The easy-to-use interface coupled with high-functioning, premium features allows businesses to stay competitive and relevant. Keep reading to better understand the four reasons to build your website on WordPress everyone should know.
WordPress is an open-source content management system (CMS) that facilitates building a robust website and makes working with design and content a breeze. Companies and entrepreneurs use WordPress to improve search engine ranking, showcase their products and services, and market themselves to prospective customers. After all, the fact that according to W3Techs and HubSpot,, WordPress is currently powering 43.2% of the 2 billion websites is a testament to the quality and convenience it offers. 
According to a survey, approximately 100,000 new websites are launched daily. Thus, we recommend using WordPress if you consider developing a new website. Listed below are four convincing reasons to build your website on WordPress.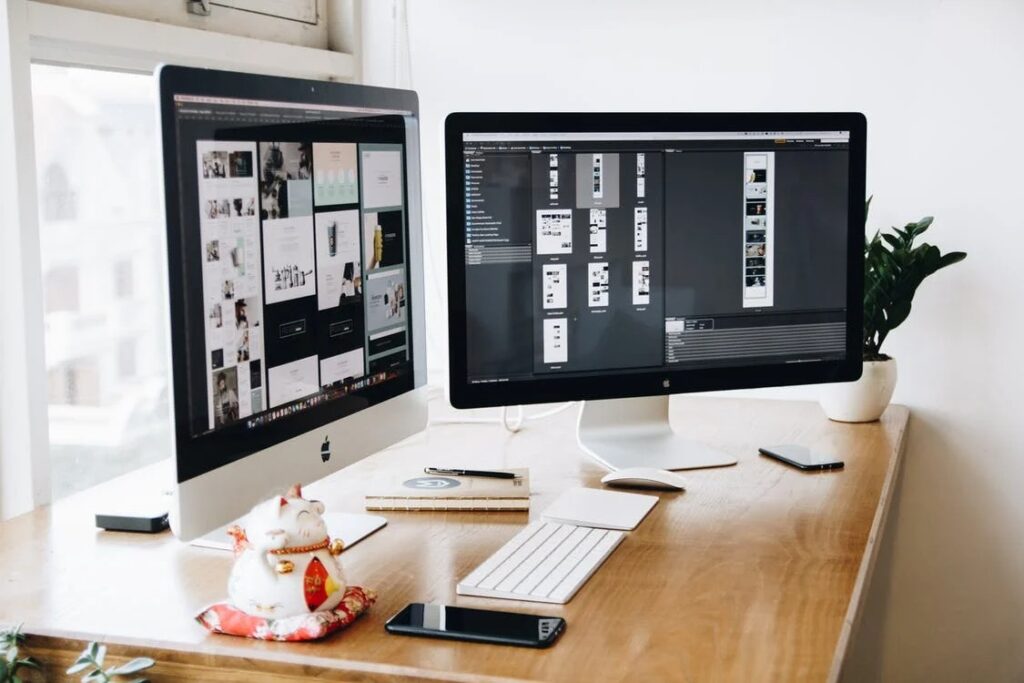 1. Top Reason to Build Your Website on WordPress – Adaptable and Flexible for Ever-Changing Business Needs
WordPress started its journey as a blogging platform in May 2003. It has since evolved and grown to become one of the largest content management systems in the world. You can use a wide variety of free and premium themes to make  one-of-a-kind, customized WordPress website  that represent your brand. 
WordPress features millions of plugins that make it easier for you to improve the functionality of your website without writing a single line of code. The plugins allow you to create anything from a complex multipurpose website to a simple online store or a personal blog. The core WordPress package, various basic and premium themes, and easy-to-access source files make WordPress endlessly adaptable to the consistently evolving  needs of individuals and businesses alike.
2. Extend Functionality with Plugins 
A WordPress website can be easily integrated with third-party tools. For example, similar to 20.4% of WordPress websites, you can use WooCommerce to convert your WordPress website into a dynamic eCommerce store or connect with Salesforce to monitor sales from your home. 
Furthermore, you can associate your WordPress website with BuddyPress if you want to develop a private or members-only community. WordPress makes the integration of third-party tools effortless for everyone, allowing you to do almost anything on your website. Expandability afforded by plugins is also definitely one of the top reasons to build your website on WordPress
3. Save Time and Money on Web Development Projects 
Any list of reasons to build your website on WordPress but include a mention of cost. WordPress is very affordable, and allows you to create a website in less than an hour. Instead of spending hours writing hundreds of lines of code, you can integrate WordPress plugins into your website to add specific functionalities. These plugins also help strategically manage websites, automate processes, and improve web traffic. WordPress tools can help you save time on website design and maintenance.
As stated earlier, WordPress is an affordable content management system, meaning you only need to pay for the domain name, web hosting platform, and a few premium plugins and themes. Note that this is only a one-time fee, and you won't be charged a single penny in the future. 
In order to create a WordPress website, you only need rudimentary knowledge pertaining to design and development. While online tutorials can help, we suggest working with a reputable web development company to create a seamless website for your business. 
In this article, we discuss a top US-based company that provides amazing WordPress web development services at a competitive price. So please continue reading to learn how to build a WordPress website on a budget.
4. Built-In Safety and Security Features 
Another key reason to build your website on WordPress are definitely it's safety and security features. With new security threats popping up every second, no website or content management system is 100% secure. Therefore, you must opt for a web development platform that prioritizes user safety and security. To that end, WordPress has a dedicated team of developers, researchers, cybersecurity experts, and independent contributors who work day and night to ensure that the platform is safe and secure. Their team continuously introduces new security patches and updates to protect websites from malicious attacks. 
In addition to this, the plugin creators also develop various security plugins that help protect your WordPress website from brute force attacks, automatically block spam comments, and remove malware. Although WordPress is a highly secure content management system, you should also follow these practices to ensure that your website is safe:
Make sure to update your WordPress website regularly. 
Only download and install themes and plugins from reliable publishers and sources. 
Use security plugins to keep an eye on your WordPress website's health, such as Sucuri. 
Practice responsible login techniques. 
Take your website's security seriously and take the necessary security measures as soon as you suspect a threat.  
Wrapping Up The 4 Must Know Reasons to Build Your Website on WordPress
Although the idea of coding a website from scratch is tempting, why spend money and time only to end up, frustrated when you can develop a personalized, functional website on WordPress for free? 
We hope this article helped you realize the value of WordPress's and its importance as a robust content management system. Use a WordPress website to sell products and services through a digital storefront or share your story with the world. 
Are you looking for website design and development services for your local, national or international website? TiTech Marketing has you covered. Get in touch with us to discuss your website development requirements, and let us help you take your business online. Click here to schedule a consultation now to take advantage of these key reasons to build your website on WordPress!